Due to worldwide shortages, the Rattlegun is currently not available for purchase online. Please contact us if you are interested.
Contact us for more information
The Rattlegun is a battery powered impact wrench which will allow a properly trained Lineman to safely install and remove bolted connections / hardware by use with a proper-length insulated Hot Stick while working near energized conductors. Due to the presence of energized conductors, the impact wrench must be operated by means of wireless telemetry via a remote control. This remotely located radio linked controller allows the operators to safely control the speed and rotational direction of the impact wrench socket.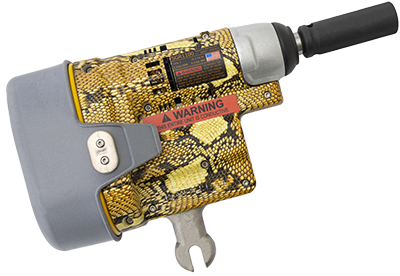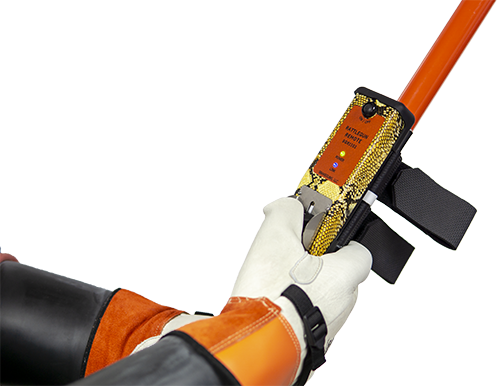 Portable impact wrench for use around energized conductors
Designed and tested for use on systems up to 500 kV AC (Phase-to-Phase system) for overhead and underground applications
Communicates wirelessly with remote via linked digital radio
Up to 300 feet operating distance between the Rattlegun and remote
Variable speed and forward/reverse functions on the impact wrench are controlled via the remote
Rechargeable battery pack for the impact wrench
Built-in universal coupling for Hot Stick attachment
Conductive rubber boot for both proper operation and safety
Specially designed Hot Stick mountable cradle for the remote control
Our Rattlegun replaces that awkward heavy impact driver with 2 hydraulic hoses, or that manual socket and wrench. Instead, we use state-of-the art technology to tighten and loosen nuts and bolts, including torque nuts. Operate our 1/2-inch battery-powered impact wrench via a remote control that can be mounted on any hot stick.
Replaces existing tools:
Insulated Wrenches
Torque Extension Stick
Ratchet Wrench
Flexible Wrench Head
How does a Rattlegun make work safer?
---
Safety Barrier
The remote control unit puts distance between you and the energized lines. It is literally "Action at a Distance," meaning nuts and bolts can be easily accessed, tightened, and loosened from the "safe" end of the hot line tool.
Ergonomics
The Rattlegun reduces many repetitive motions in construction, maintenance, and storm emergency situations. By getting jobs done faster, it also reduces the chance of back and knee injuries due to repetitive motions. No more ratcheting that stick back and forth to tighten a nut with that swivel-mounted ratchet on the end of the stick!
Are any special tools required?
---
Using readily available hot sticks found on any lineman's truck, linemen can upgrade their capabilities, speed, and ease-of-use for all bolted applications.
All you need is a shotgun stick, grip-all, or universal pole. Any insulated hot stick with a universal head meets the attachment requirements.
Grab a set of 1/2" drive impact rated sockets and you're ready to go!
Where can Rattleguns be used?
---
From a bucket truck
On the pole
On the ground (it provides additional safety for enclosure, manholes, vaults)
Workmanship and defects covered up to 1 year (battery not included).
Due to worldwide shortages, the Rattlegun is currently not available for purchase online. Please contact us if you are interested.
Owner's Manual & Documentation
---
"RATTLEGUN" Unit Specifications
Weight (w/o batteries): 1.3 kg (2.9 lb)
Weight with included battery pack: 2.2 kg (4.8 lb)
Dimensions: 9.7" L X 4" W X 7.4" H
Power Source: 18 V Ni-CAD Battery, 2.2 A/h
Maximum output torque: 145 ft.-lbs / 1740 in.-lbs / 195 Nm
Anvil size: 1/2" square drive

"REMOTE CONTROL" Unit Specifications
Weight (w/o batteries): 0.21 kg (0.46 lb)
Dimensions: 7.3" L X 2.4" W X 1.7" H
Power Source: 9 V Alkaline Battery, 310 mA/h

Both Unit Specifications
Designed voltage range(s): For use on up to 500 kV AC 50/60 Hz Phase-to-Phase systems
Operating temperature range: -20° to +40°C
Operating humidity range: 5% to 95% Rh
Storage temperature: -20° to +40°C (Recommended storage at 21°C +/- 2%°C)
Storage humidity range: 5% to 95% Rh (Recommended storage at 45% Rh +/- 8% Rh)
Limitations: Do not use if damaged or malfunctioning. Always use appropriate length insulated Hot Sticks even when wearing rubber gloves. To verify proper operation, always test the Rattlegun unit and the remote control unit in a safe environment before use.
Maximum Designed Operating Distance: Up to 100 ft with unobstructed Line-of-Sight between the wireless impact wrench and remote control. Obstructions between the units may reduce the operating distance.

Battery Charger Specifications
Please refer to the manual that was provided with the battery charger.